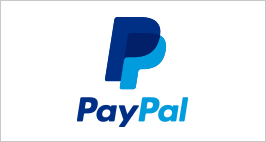 Queen of the Jungle
$100 digital license
$130 original ink on A3 paper (FREE shipping anywhere)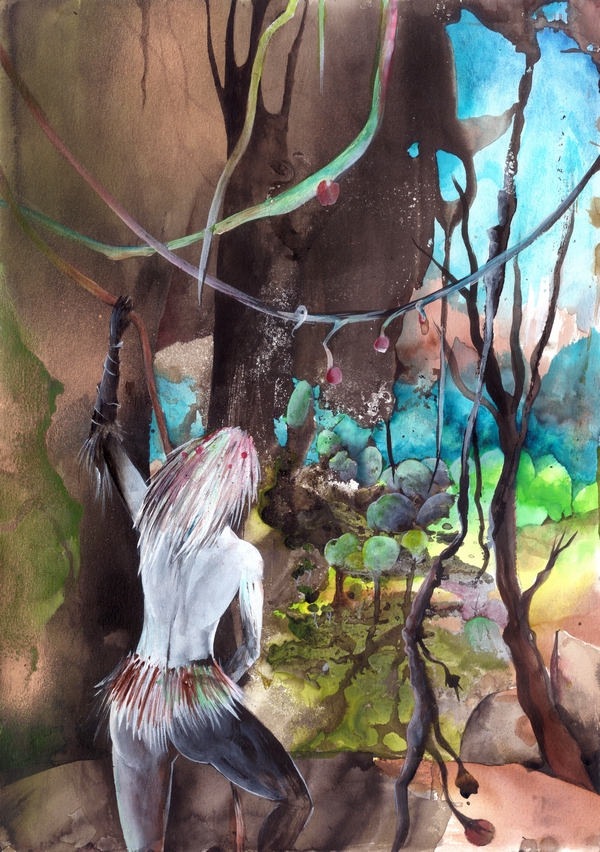 ---
"Three Marys"
$75 digital license
$100 original ink on A3 paper (FREE shipping anywhere)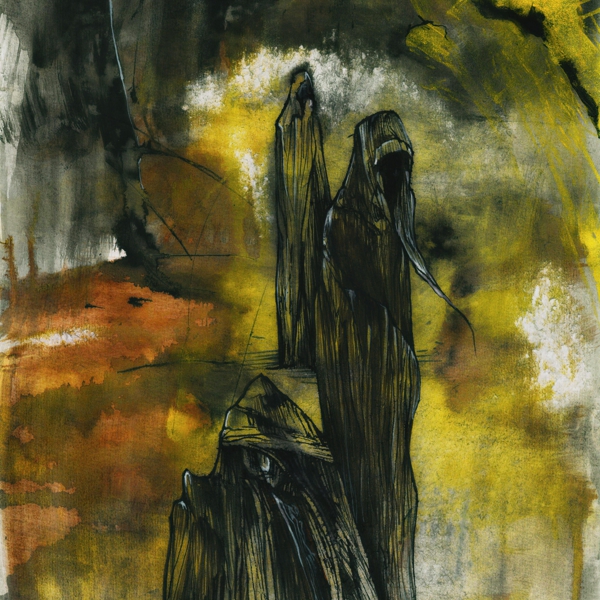 ---
Blood Peddler
$100 digital license
$120 original ink/acrylics on A3 paper (free shipping anywhere)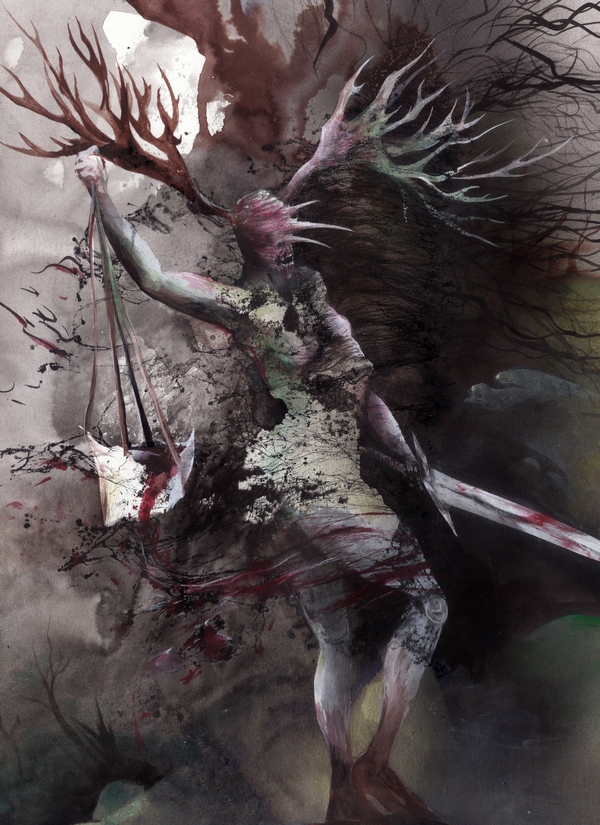 ---
Guards of the Bleeding Citadel
BOOKED (motsl-an example of different reality):$75 digital license
$90 original ink/acrylics on A3 paper (less contrasted and saturated; +$10 shipping anywhere)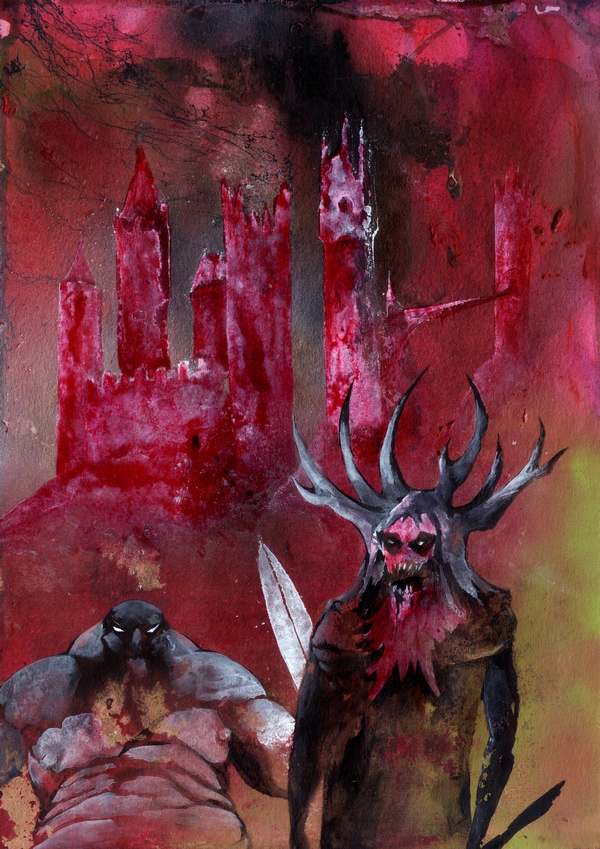 ---
Invoking Dagon
BOOKED (motsl-pit realities):$85 digital license
$110 original ink/acrylics on A3 paper (free shipping anywhere)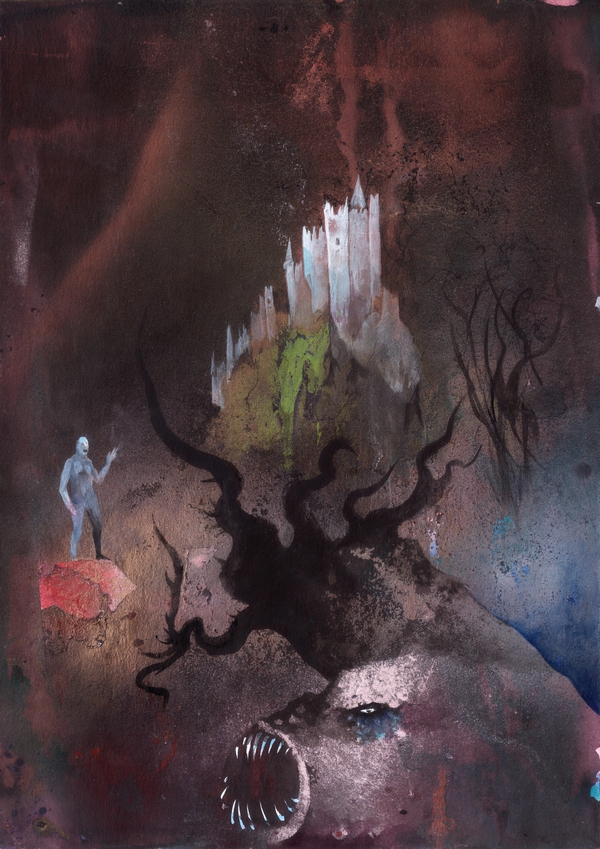 ---
Stoned Guards
$90 digital license
$120 original ink/acrylics on A3 paper (free shipping anywhere)

---
Stalker
BOOKED (motsl-one of the dark wizards who manipulate seasons):$85 digital license
$100 original ink/acrylics on A3 paper (free shipping anywhere)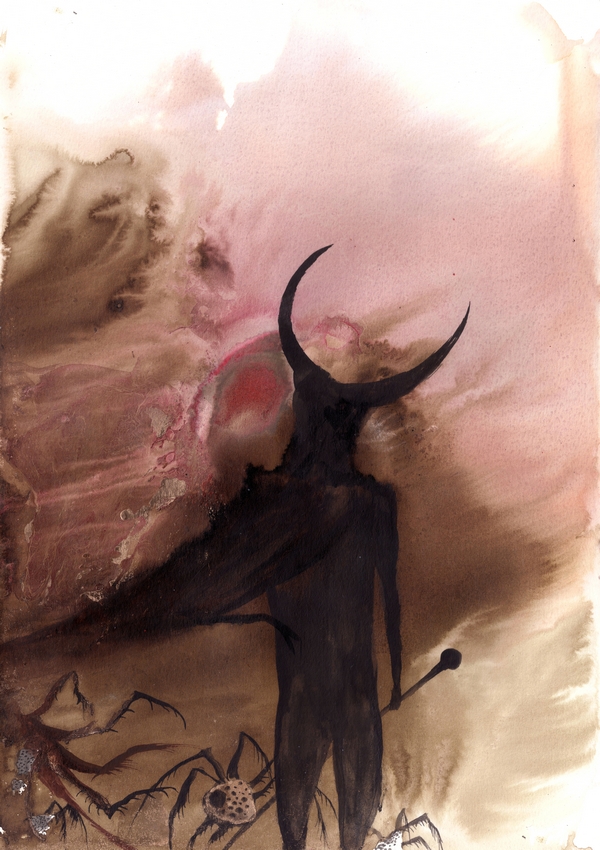 ---
Disfigured Undead
$75 digital license
$100 original ink/acrylics on A3 paper (free shipping anywhere)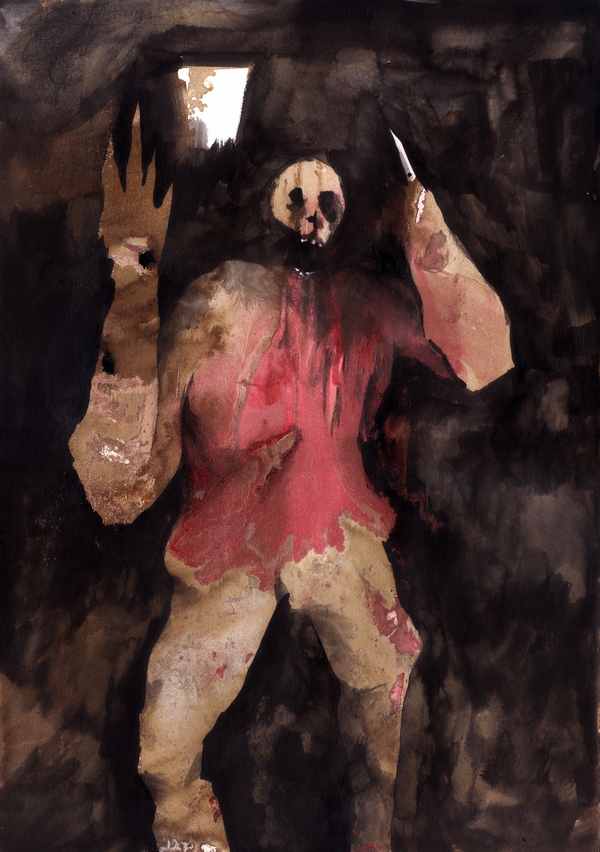 ---
Lone Witch
$55 digital license
$80 original ink/acrylics on A4 paper (+$10 shipping anywhere)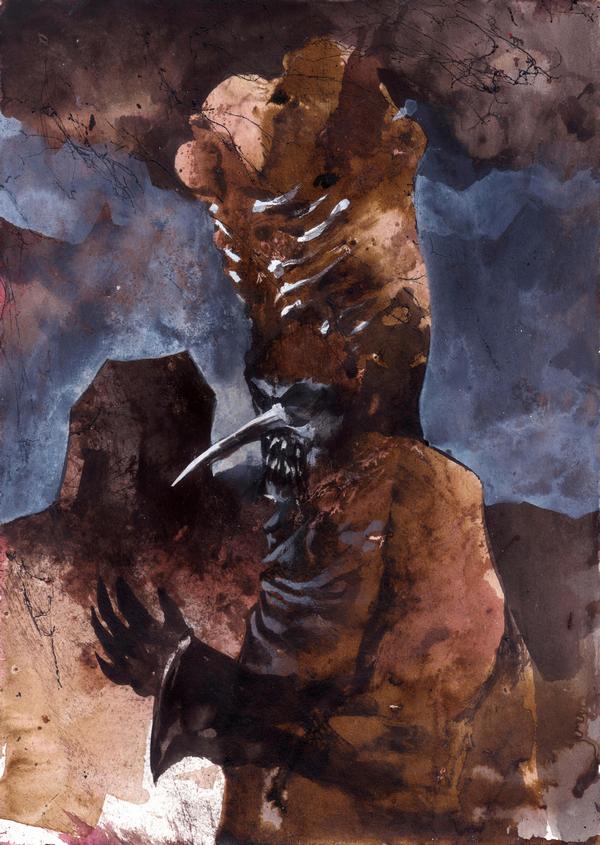 ---
Ethereal Horse
BOOKED (motsl): $50 digital license
$75 original ink/acrylics on A4 paper (+$10 shipping anywhere)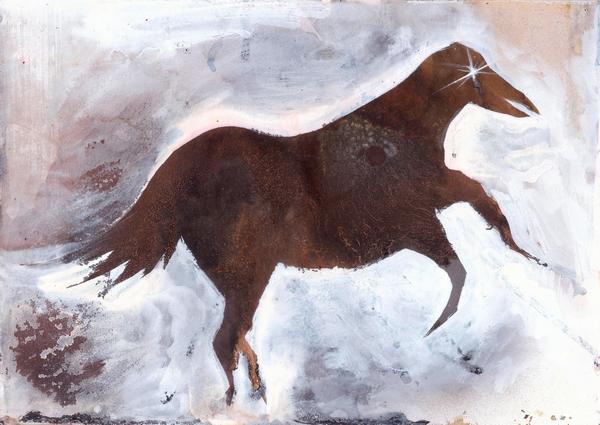 ---
Wycht
$65 digital license
$100 original ink/acrylics on A4 paper (free shipping anywhere)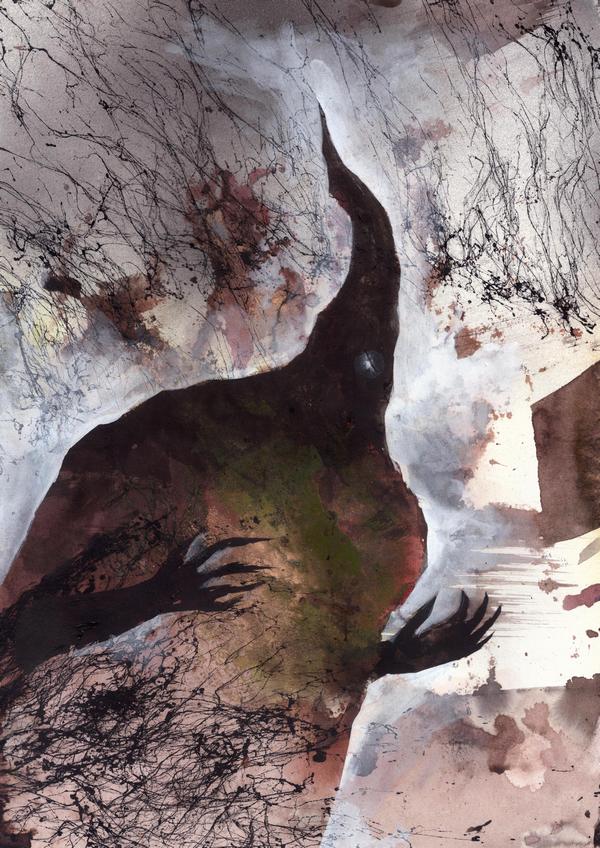 ---
Archangel
$65 digital license
$100 original ink/acrylics on A4 paper (free shipping anywhere)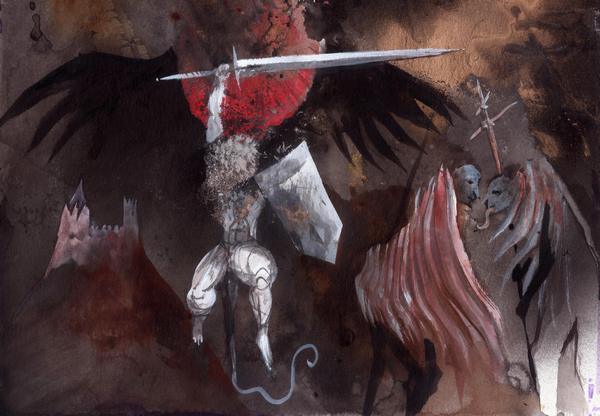 ---
Bridge at the Doom Fort
$90 digital license
$110 original ink/acrylics on A3 paper (free shipping anywhere)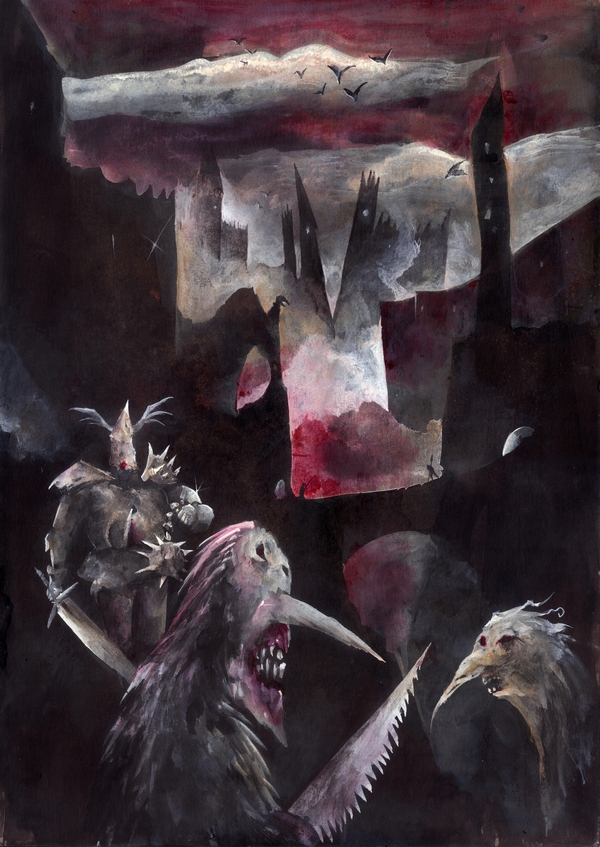 ---
Willow Tree
2972 * 2972 pixels (CD size only)
$80 digital license
original not available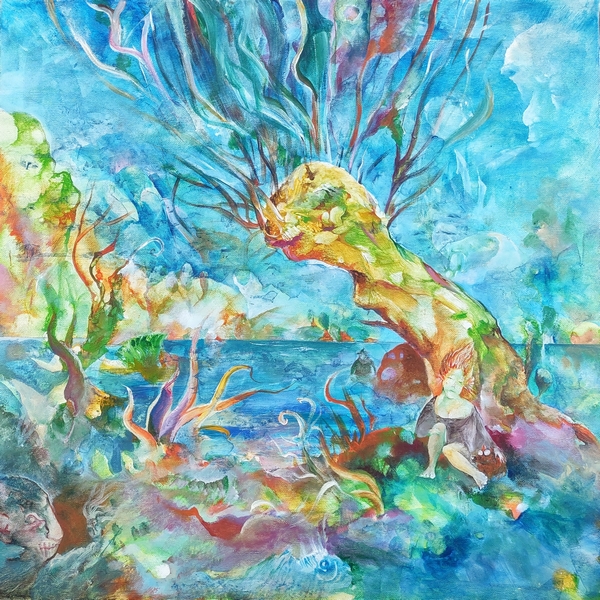 ---

​
Pantocrator
3000 * 4000 pixels (CD size only)
$100 digital license
original not available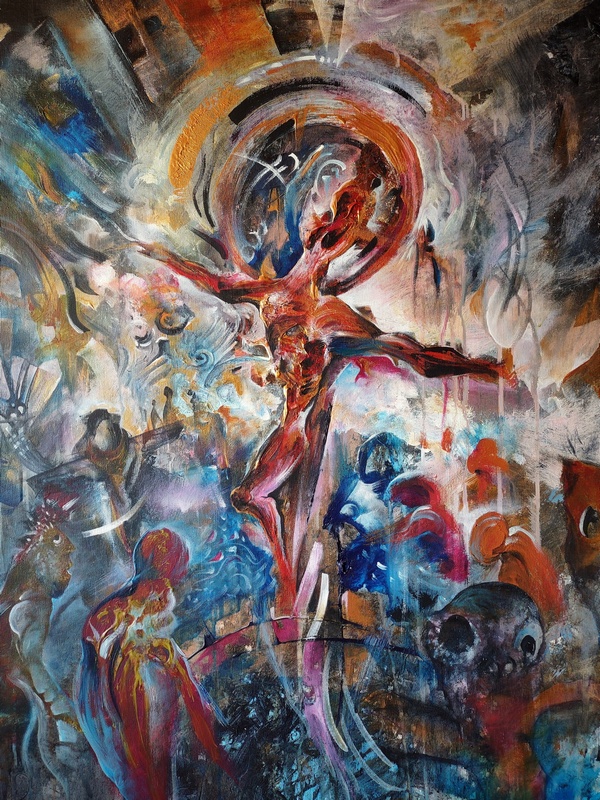 ---
Celtic Spring
3000 * 3000 pixels (CD size only)
$85 digital license
original not available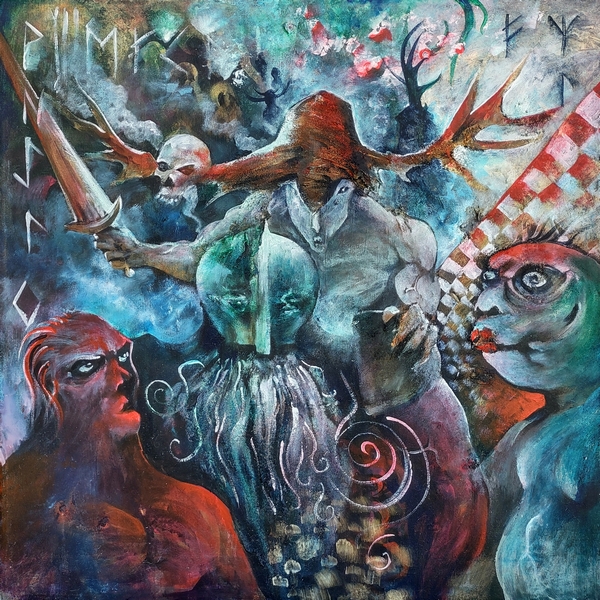 ---
Arrival of the Saints
$95 digital license
$120 original ink/acrylics on A3 paper (free shipping anywhere)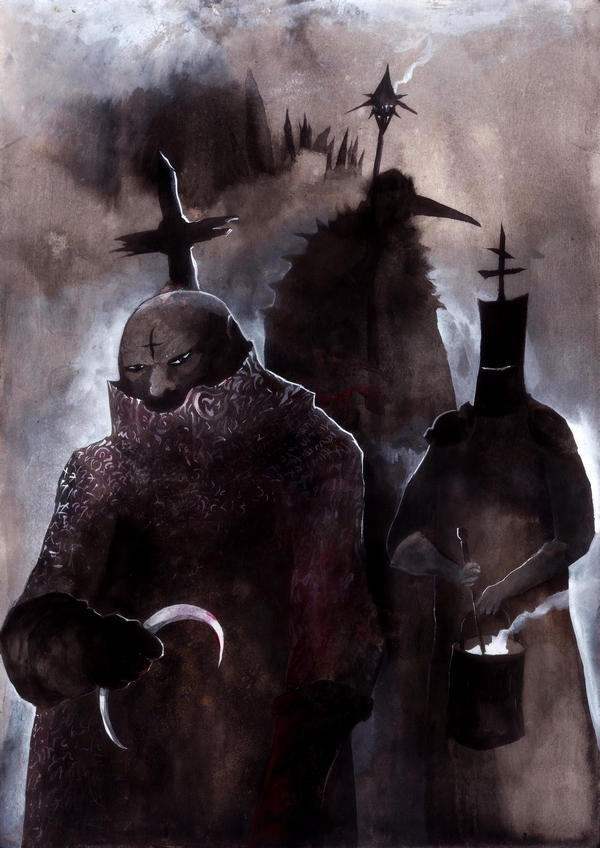 ---
Belzebub
BOOKED (motsl-destroyer of worlds): $90 digital license
$110 original ink/acrylics on A3 paper (free shipping anywhere)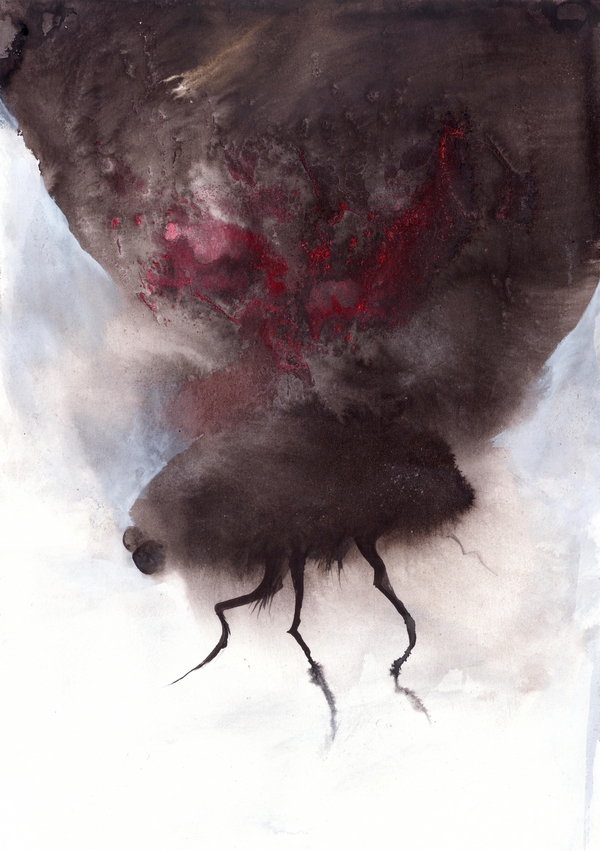 ---
Storm Lord
$75 digital license
$100 original ink/acrylics on A3 paper (free shipping anywhere)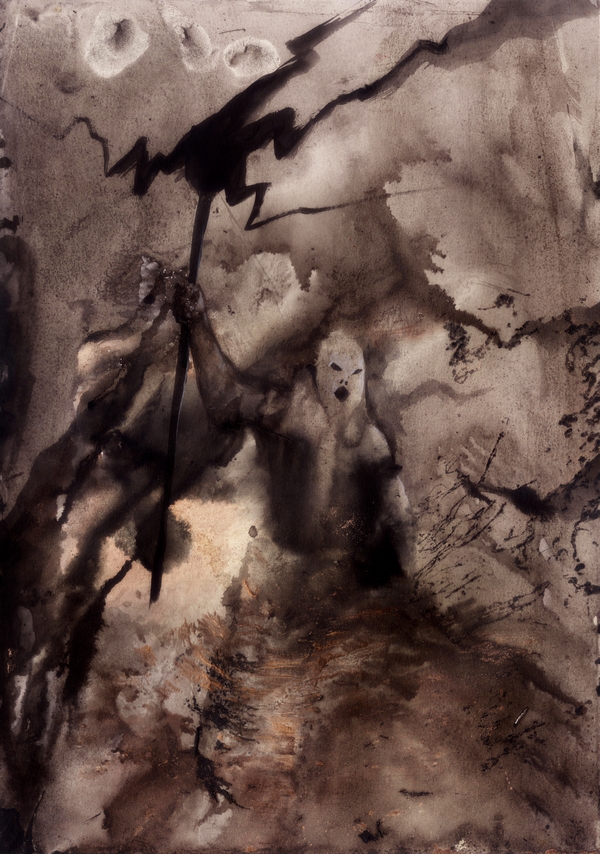 ---
Horny Goat
$80 digital license
$100 original ink/acrylics on A3 paper (free shipping anywhere)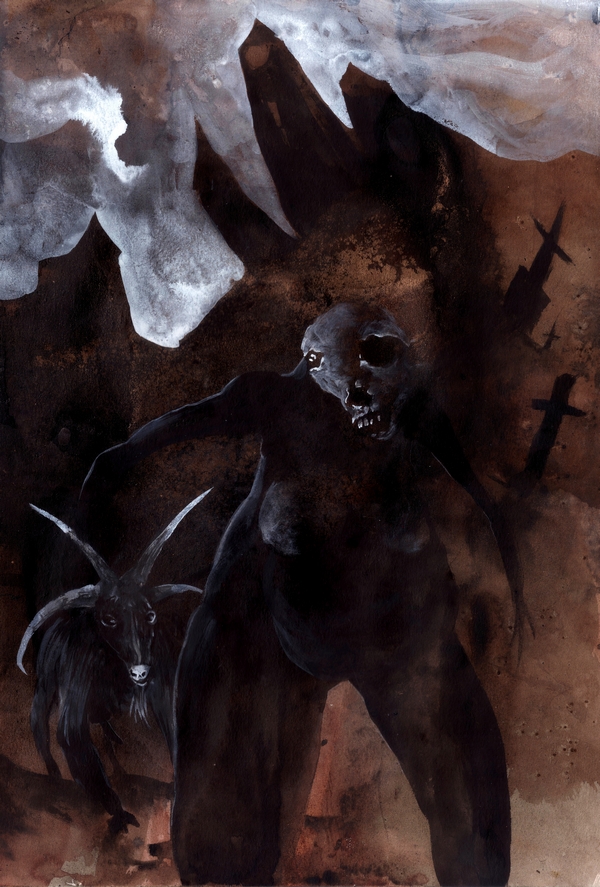 ---
Blasphemer
$80 digital license
$100 original ink/acrylics on A3 paper; less saturated colors (free shipping anywhere)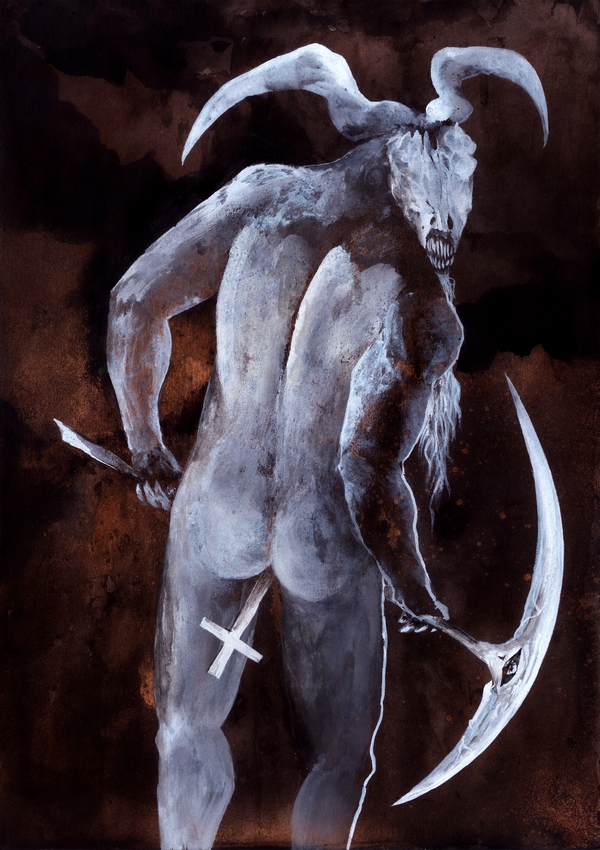 ---
Psychopompos
$75 digital license
$100 original ink/acrylics/watercolor on A3 paper (free shipping anywhere)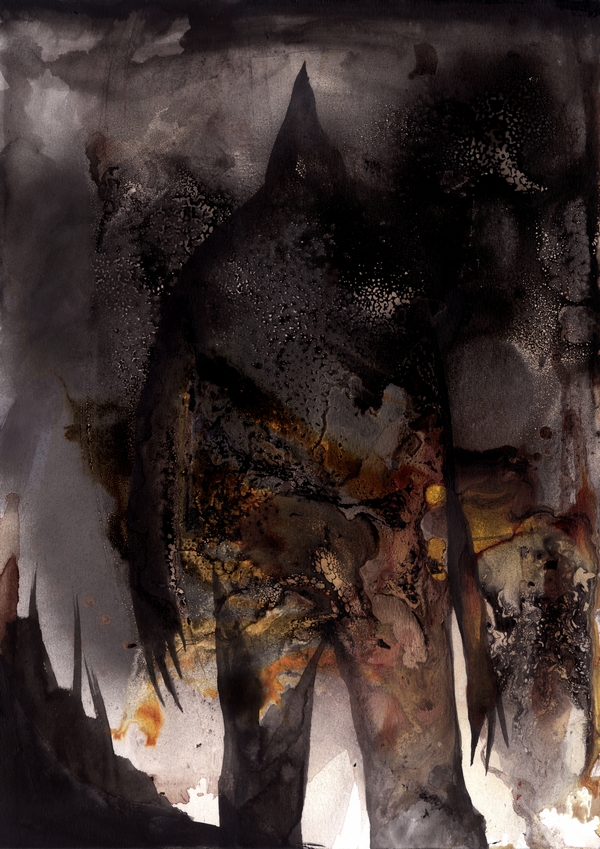 ---
Lucifer
$100 digital license. 2645 × 3400 resolution photo of acrylics on canvas
Original not available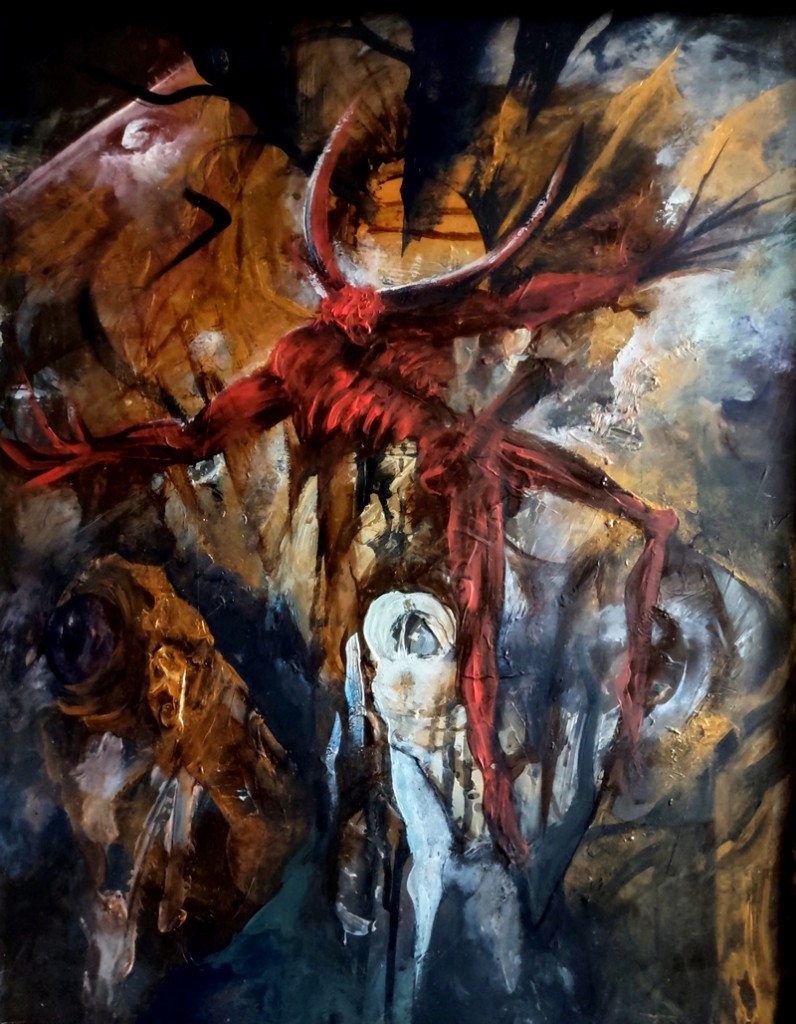 Deep Wood Witch, the Queen of Birds
$80 digital license
$110 original watercolor, acrylic, ink/acrylics on A3 paper (free shipping)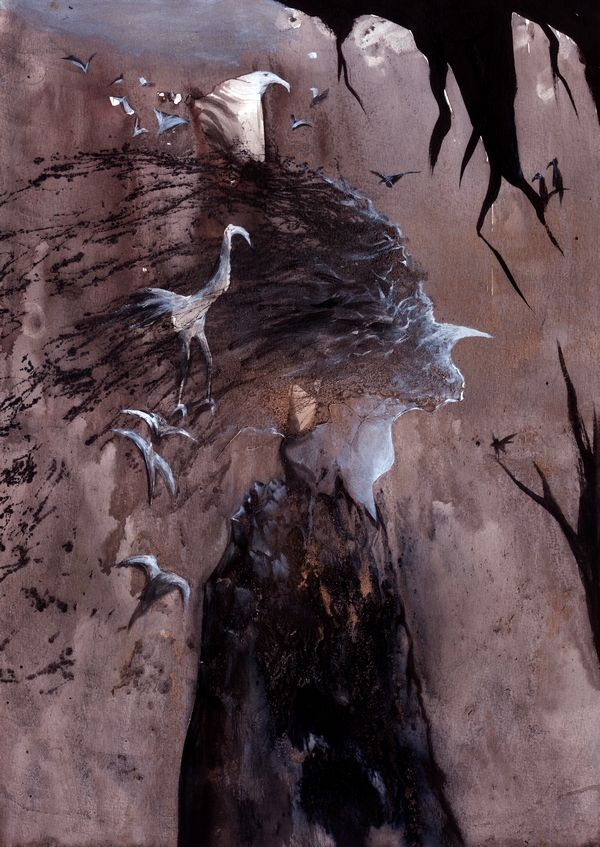 ---
Temptation of Saint Anthony (#2)
$100 digital license. 2600 × 3769 resolution photo of acrylics on canvas
original not available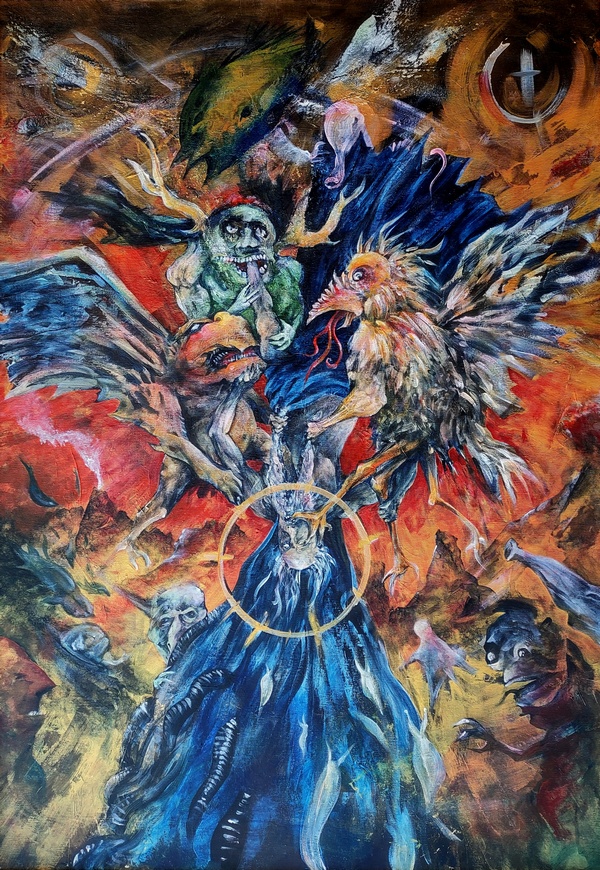 ---
Winter Demon
$85 digital license
original not available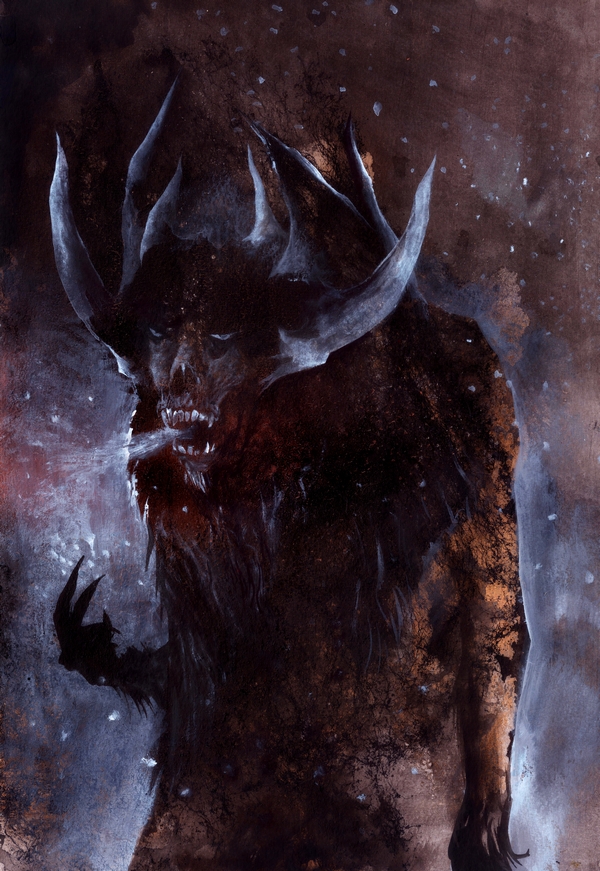 ---
Medusa, the Queen of Witches
$85 digital license
$110 original watercolor, acrylic, ink on A3 paper (free shipping)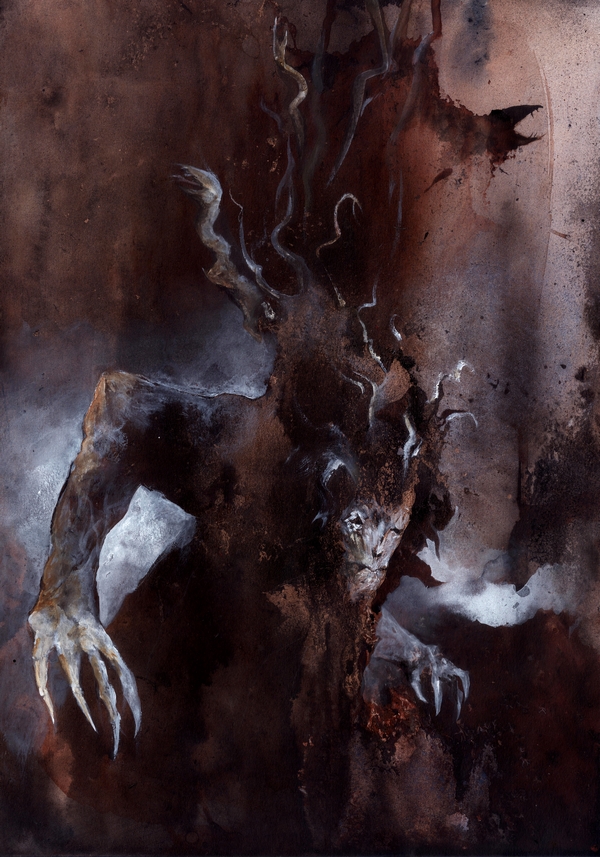 ---
Procession to the Averted God
$100 digital license
$130 original watercolor, acrylic, ink on A3 paper (free shipping)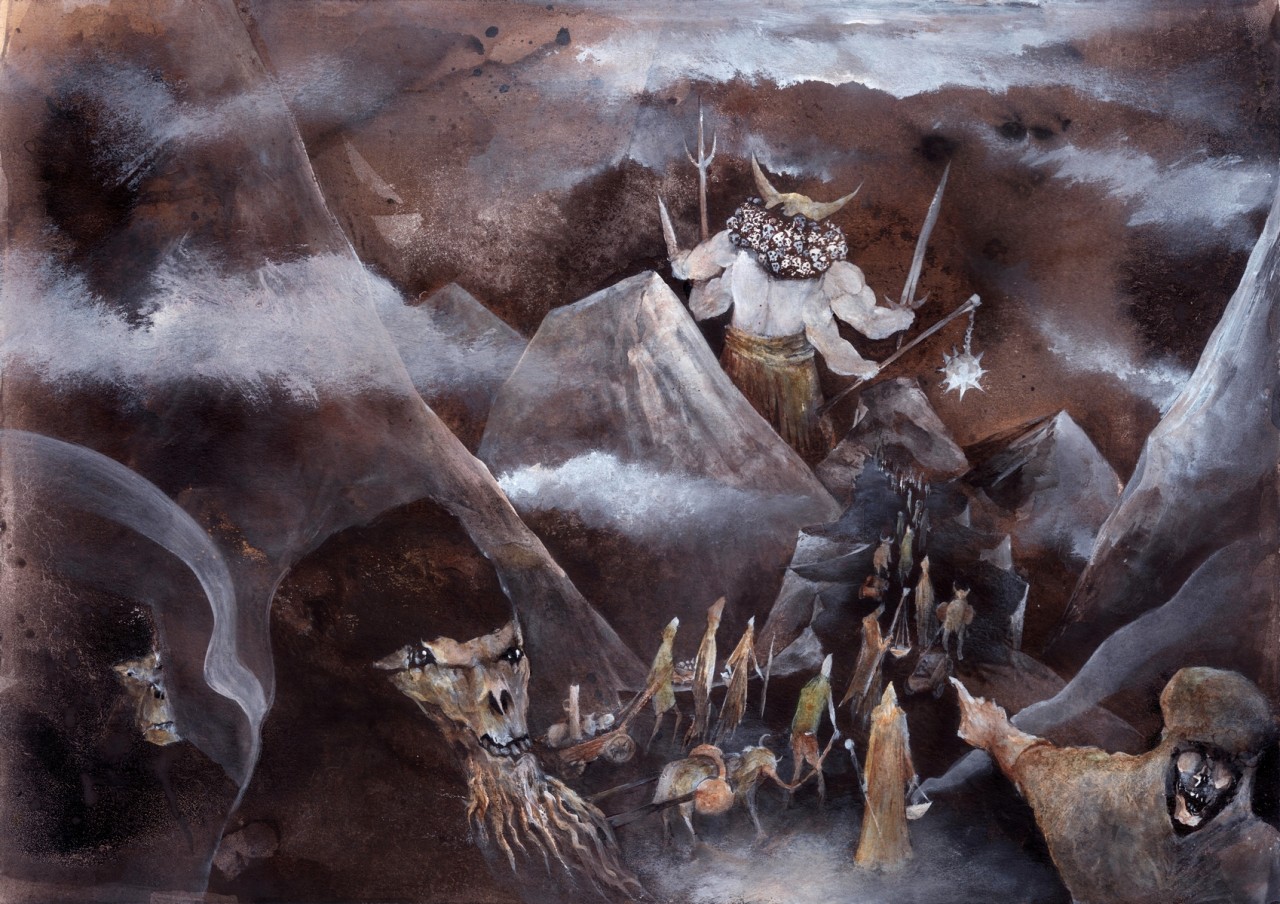 ---
Servant of Dagon
$80 digital license
$100 original watercolor, acrylic, ink on A3 paper (free shipping)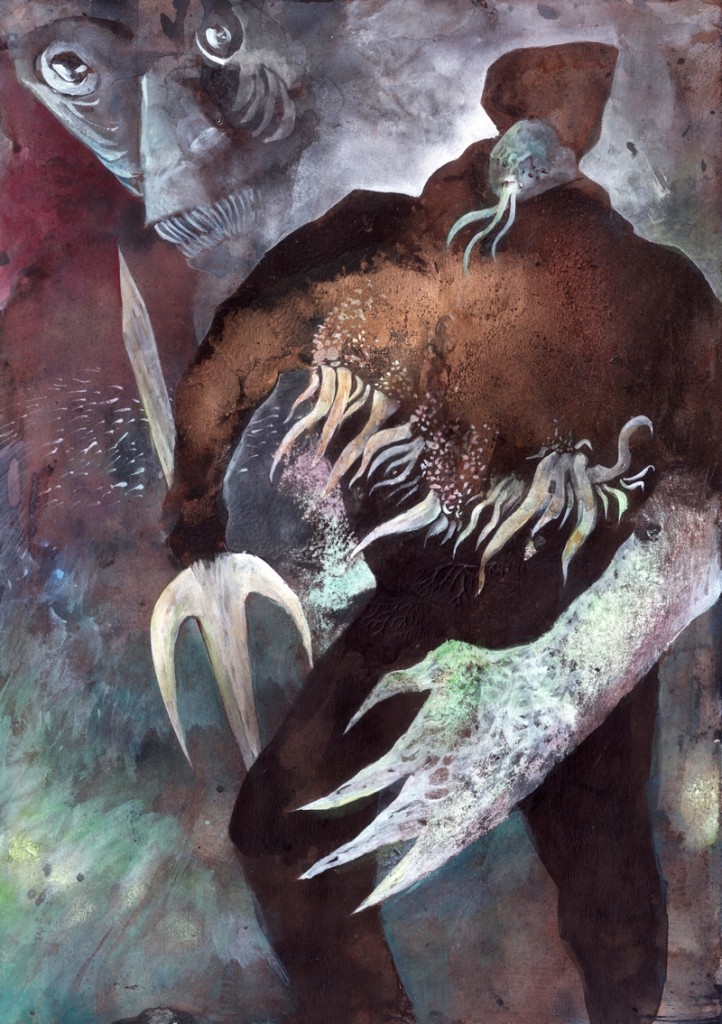 ---
The Reaper
$70 digital license
$90 original watercolor, acrylic, ink on A3 paper (+shipping $10)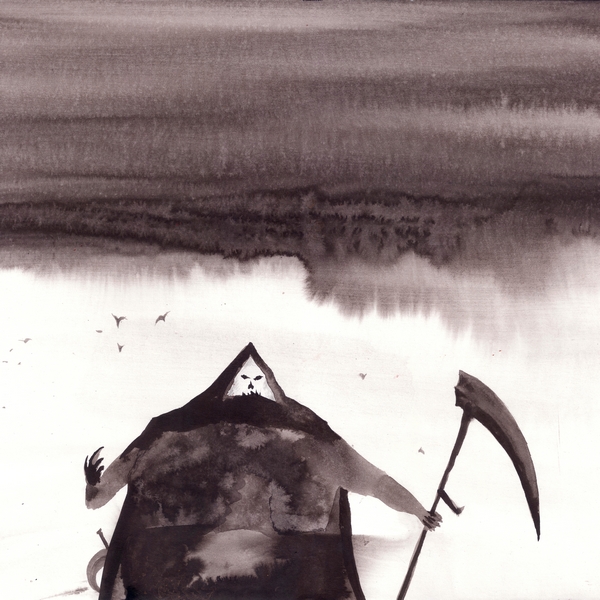 ---
Warlock in the throne Room
$70 for licensing as a cover or illustration
original not available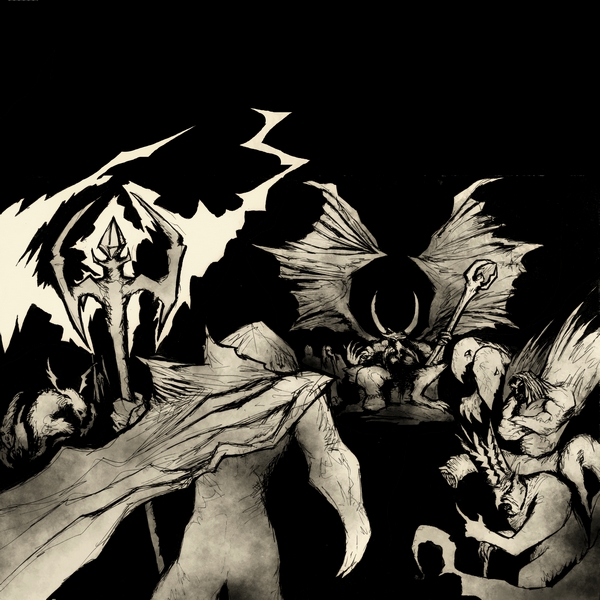 ---
"Buffalo Witch"
$75 license CD/MC/LP
$100 original ink/watercolor on 30*30 cm paper (free shipping anywhere)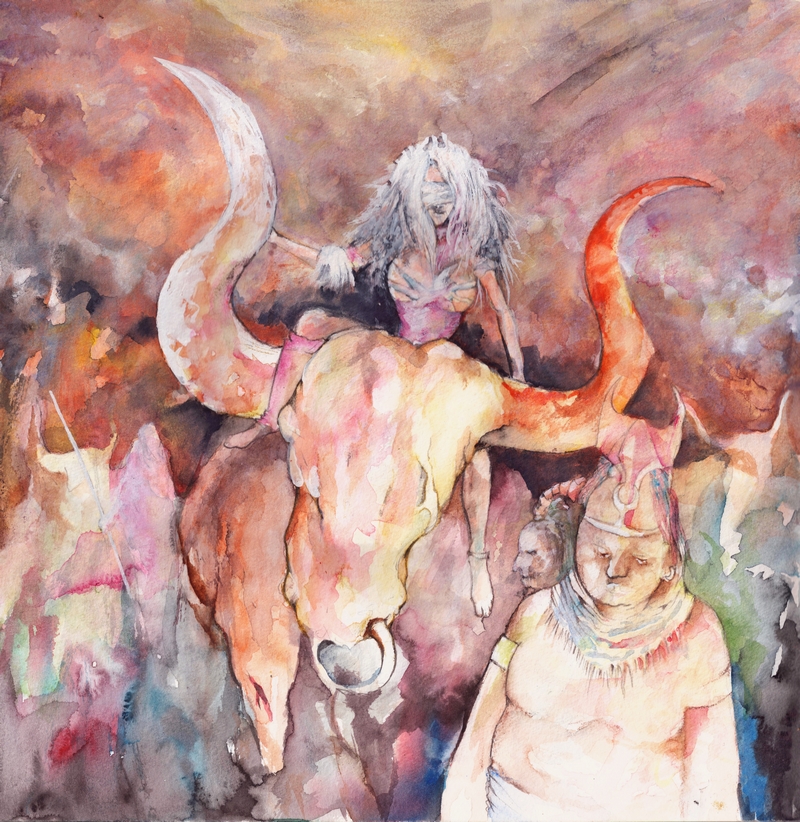 ---
Ugly Necromancer
$100 digital license
$120 original ink, watercolor on approx. 11.6*11.6" paper (shipping free)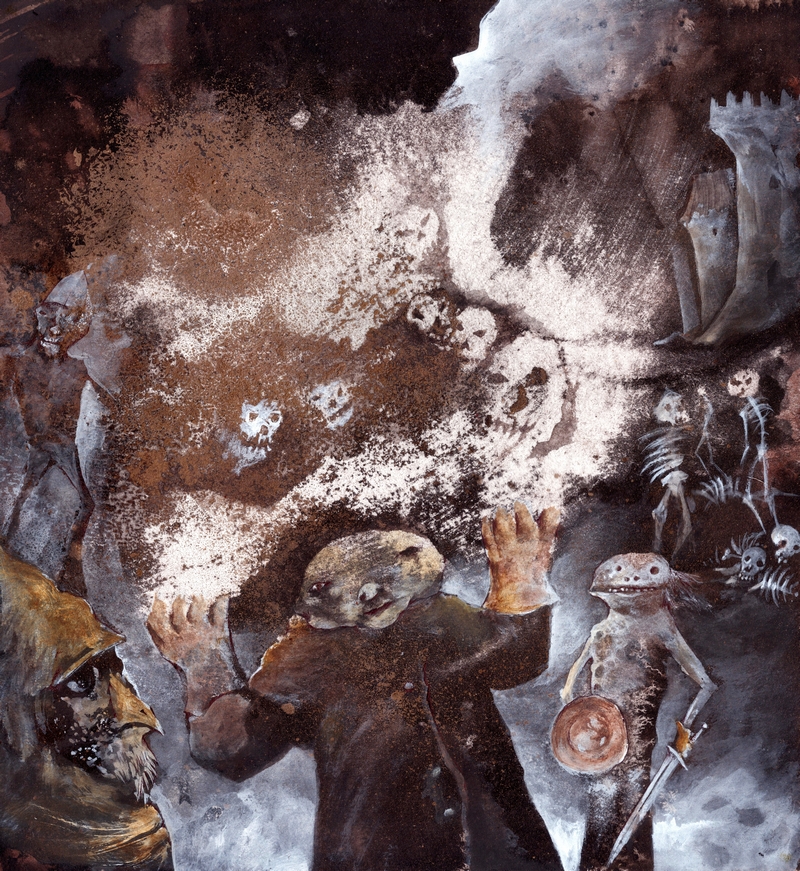 ---
Cavern Creatures
$70 digital license
$100 original ink, watercolor on A3 paper (shipping free)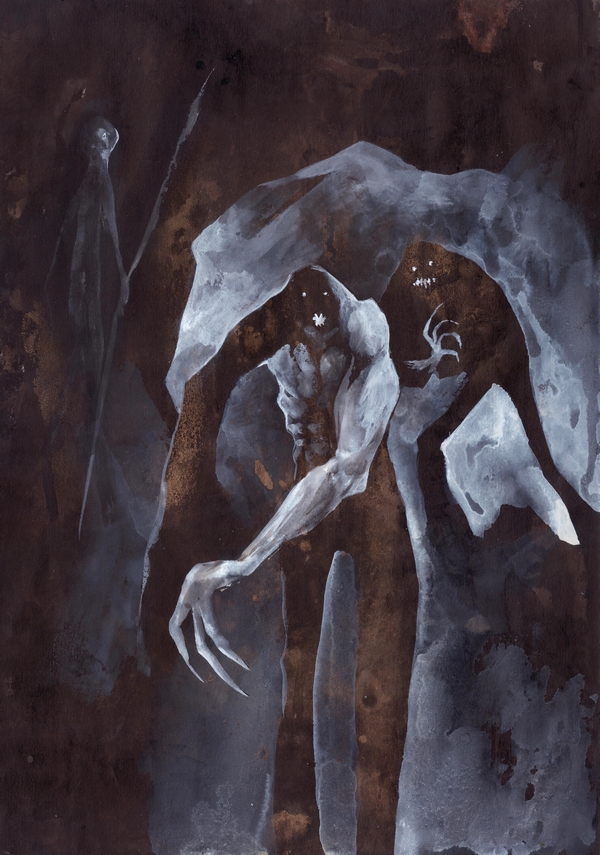 ---
Celtic witchcraft
$80 digital license
$110 original ink, watercolor on A3 paper (shipping free)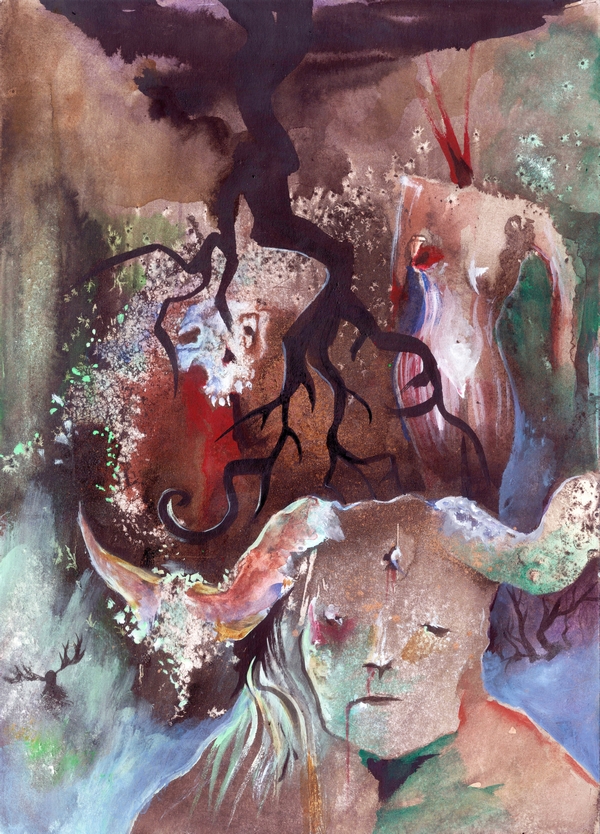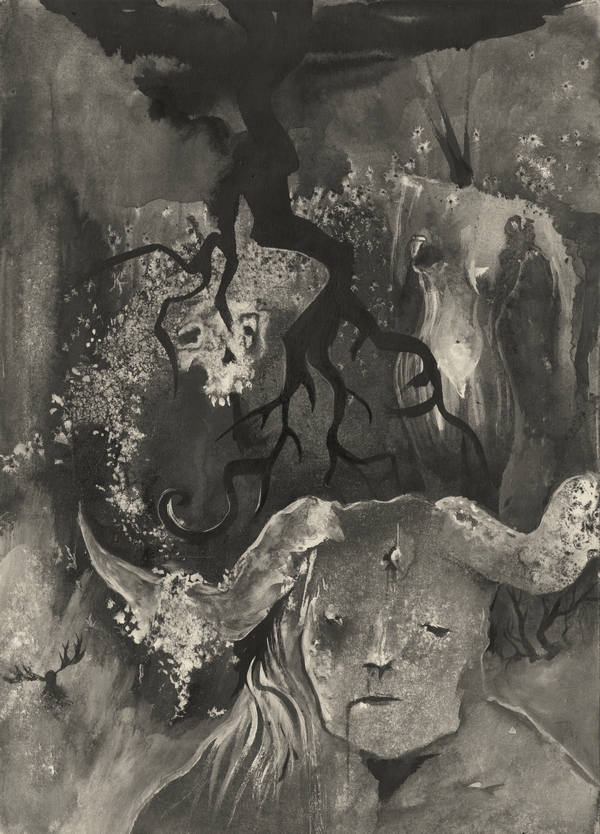 ---
"Night at the Mountain Village"
$60 digital license
$75 original ink on A4 paper (plus $10 shipping)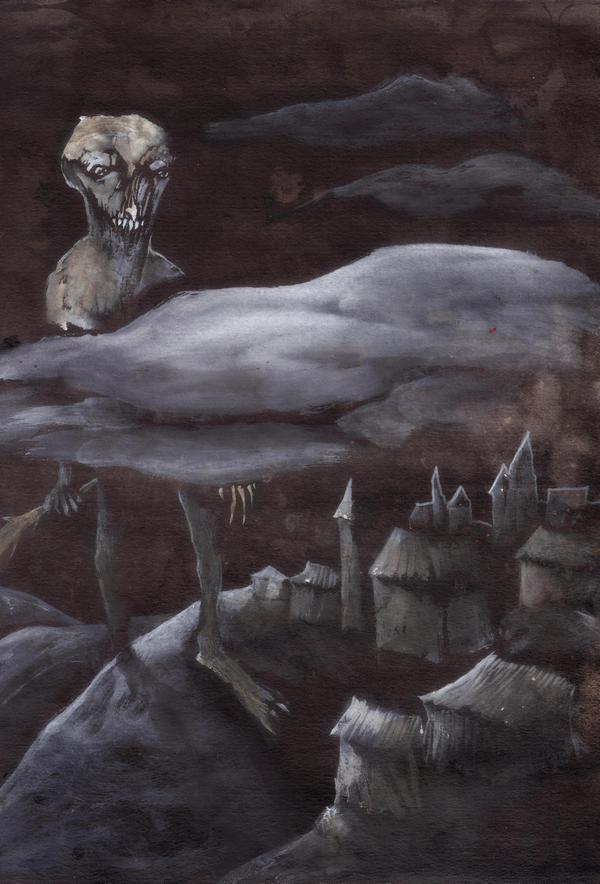 ---
"A Girl in the Dark Forest"
$55 for licensing as a CD/MC/LP cover or merch design
$85 original ink on A3 paper ($10 shipping anywhere)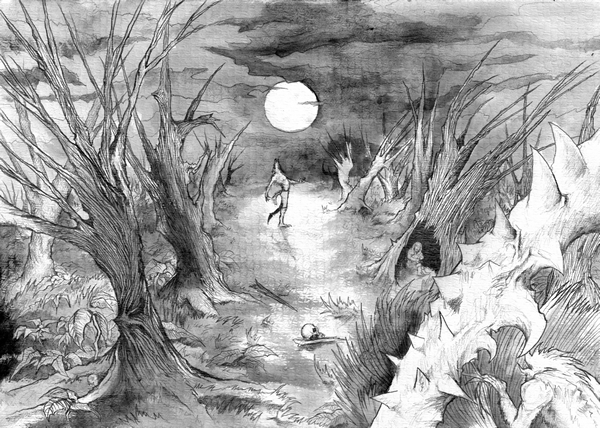 ---
"POV Master of the Emerald Wand vs. Pink Wizard and His Pathetic Servants"
$75 for licensing as a CD/MC/LP cover or merch design
$100 original ink on A3 paper (FREE shipping anywhere)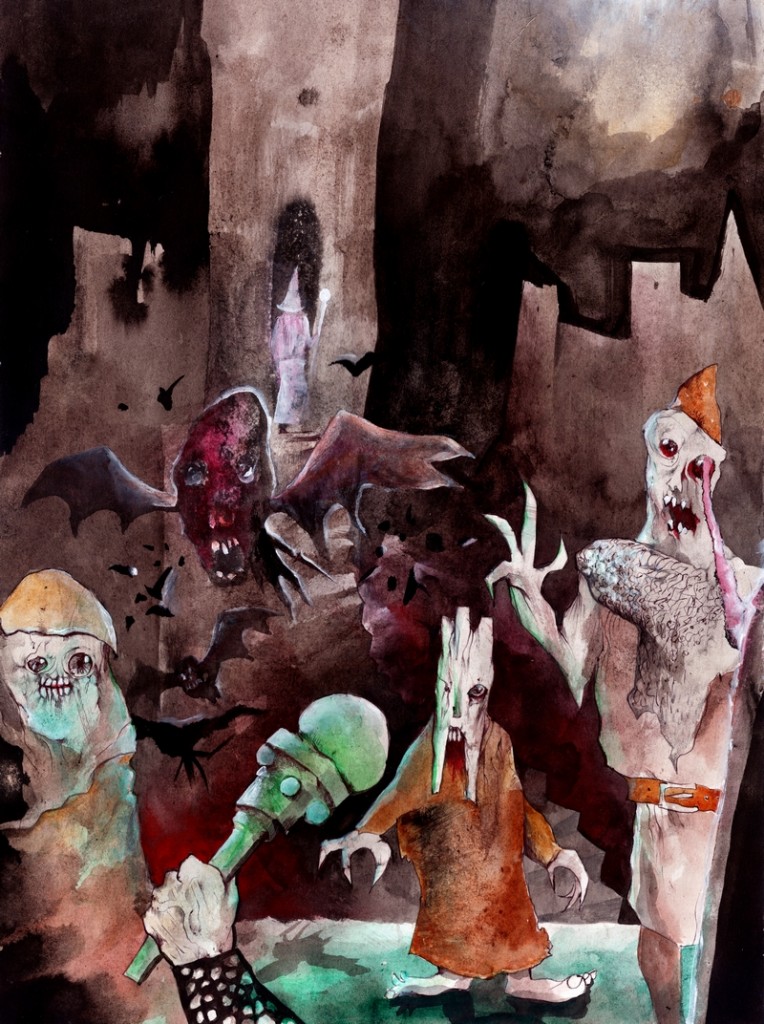 ---
"A Listener"
$70 license
$100 original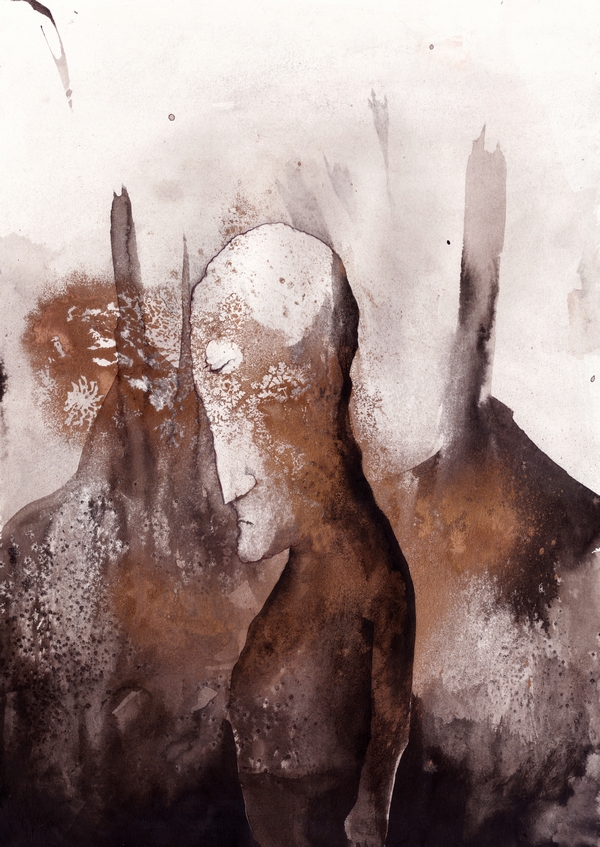 ---
"Winter Storm Troll"
$75 for licensing as a CD/MC/LP cover or merch design
original not available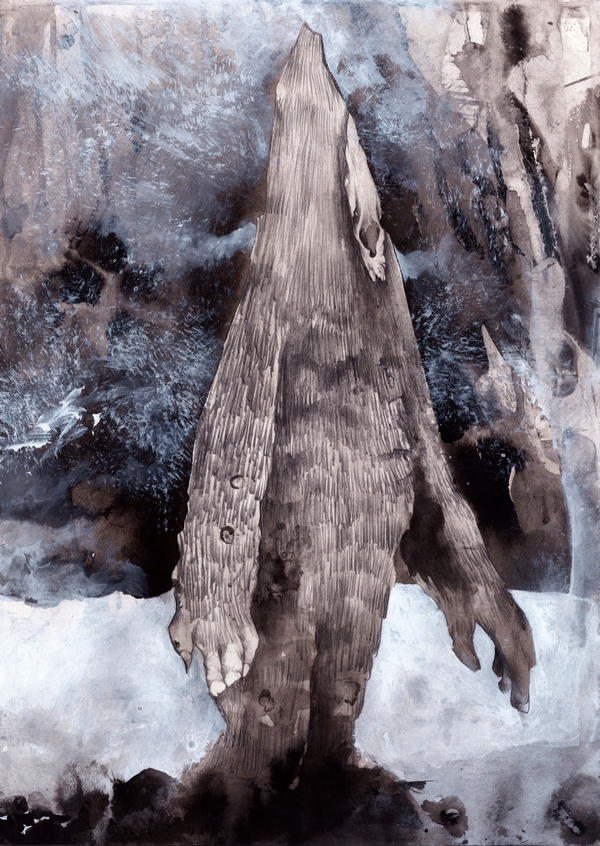 ---
"A Night Incident"
$65 license for use as a LP/CD/MC cover or merch design
Original not available
A ragged figure hurries through a full moon night with a package in its hands. Is it a desperate father with a disfigured child seeking a shelter, or a wicked kidnapper? Or maybe a heretic-sorcerer who digged a poor unbaptised baby out of its grave near the gallows so he could use it for some black magic purpose? And what about the dark figure behind? Just a scatheless scarecrow, or on the contrary a night watchman going to alarm the village behind him in the next moment? Or maybe just an old sad ghost wandering around.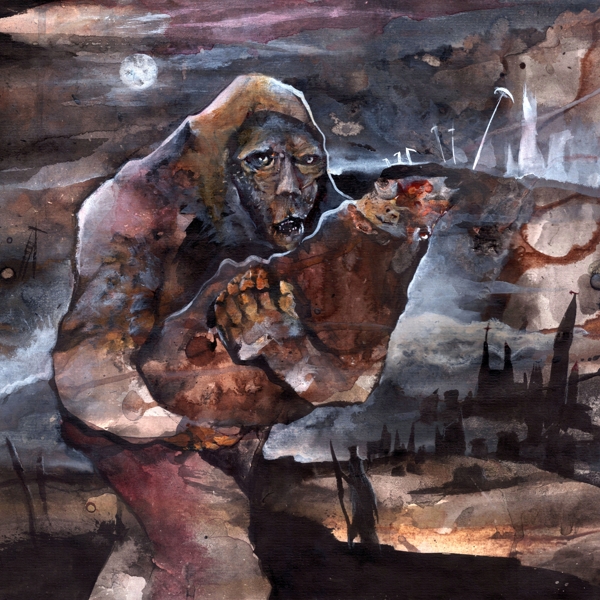 ---
"Facing the Storm God"
$60 license for use as a CD/MC cover or merch design
$75 original A4 ink on paper ($10 shipping anywhere)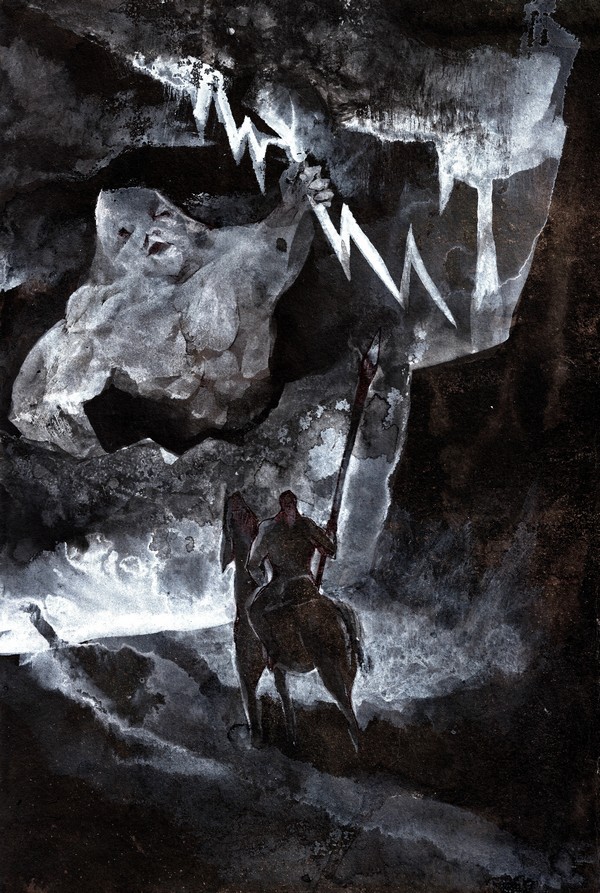 ---
"Soul Market"
$100 license for use as a LP/CD/MC cover or merch design
Original not available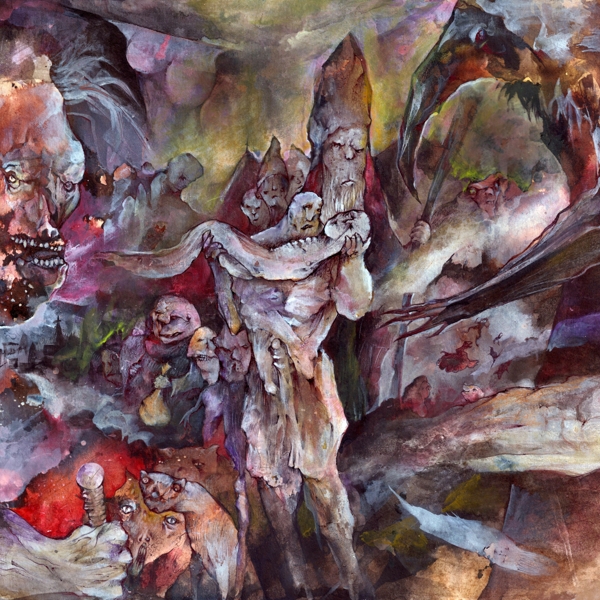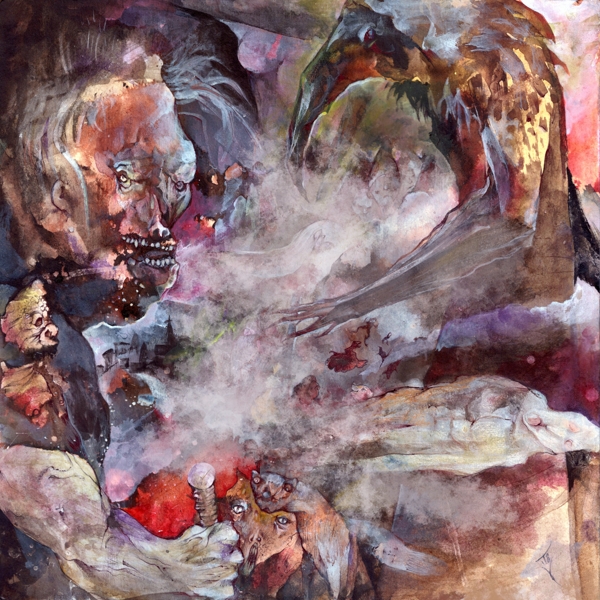 ---
"Demons and Nuns"
$70 license for use as a LP/CD/MC cover or merch design
$80 original A4 watercolors on paper, colors differ ($10 shipping anywhere)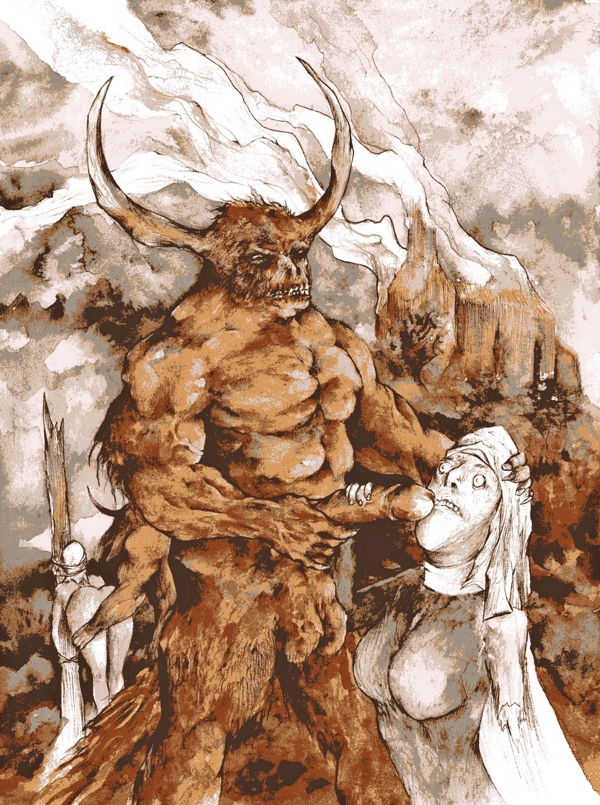 ---
"Hastrman"
$70 license for use as a LP/CD/MC cover or merch design
$110 original 40×40 cm ink on paper (FREE shipping anywhere)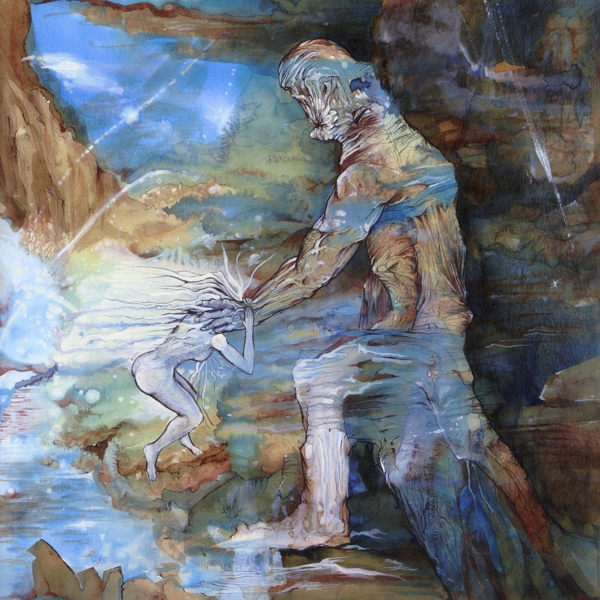 ---
"The Summoner"
$90 license for use as a LP/CD/MC cover or merch design
Original not available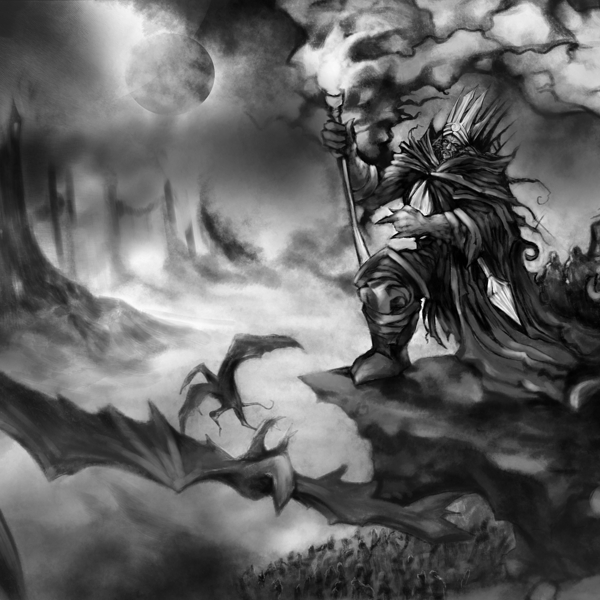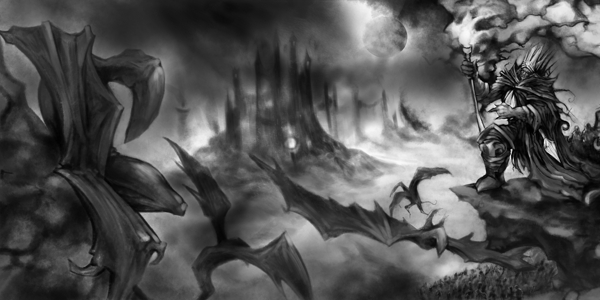 ---
"Sabbath"
$75 for licensing as a CD/MC/LP cover or merch design
$150 original ink on 40×40 cm paper (FREE shipping anywhere)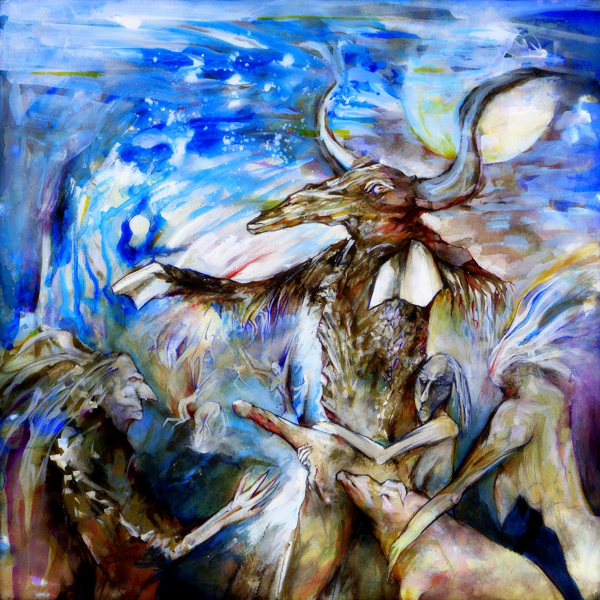 ---
"The Temptation of Saint Anthony"
$75 for licensing as a CD/MC/LP cover or merch design
$100 original ink on approx. A3 paper (FREE shipping anywhere)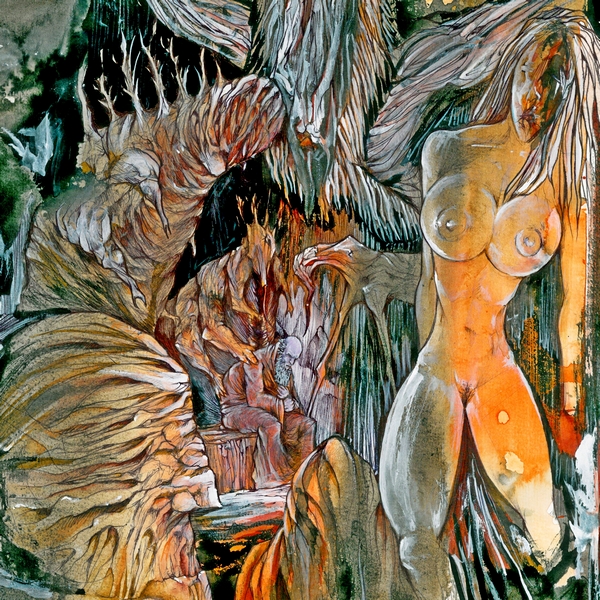 ---
"Another Sabbath"
$66.6 for licensing as a CD/MC/LP cover or merch design
$90 original ink and watercolor on A4 paper ($10 shipping anywhere)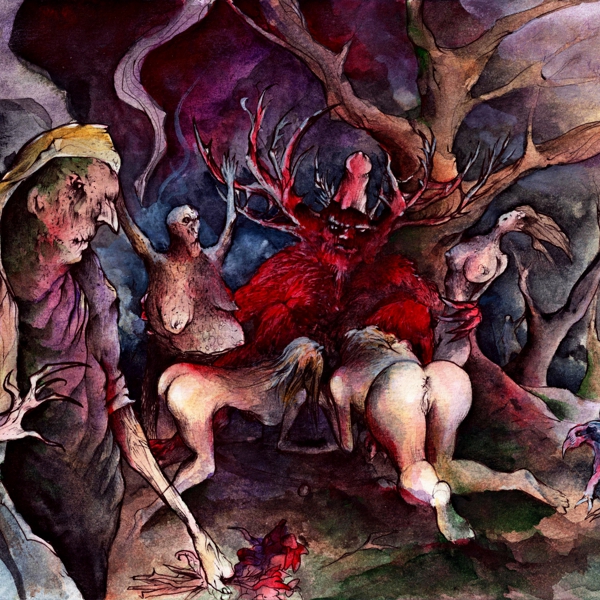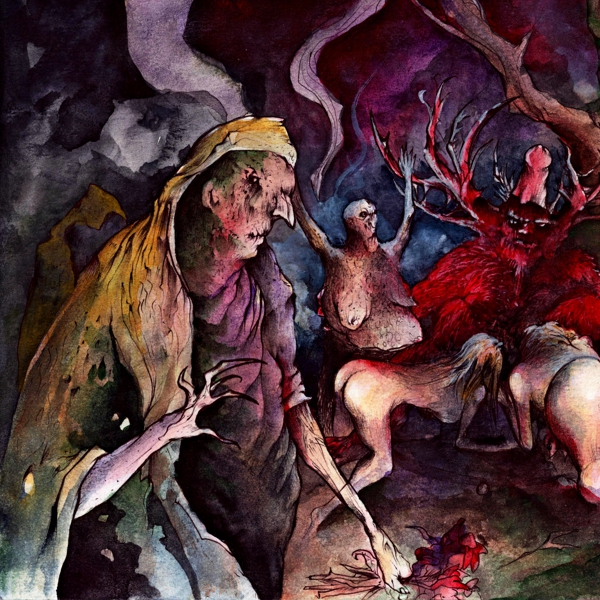 ---
"Pope"
$55 for licensing as a CD/MC/LP cover or merch design
Original ink on A3 paper not available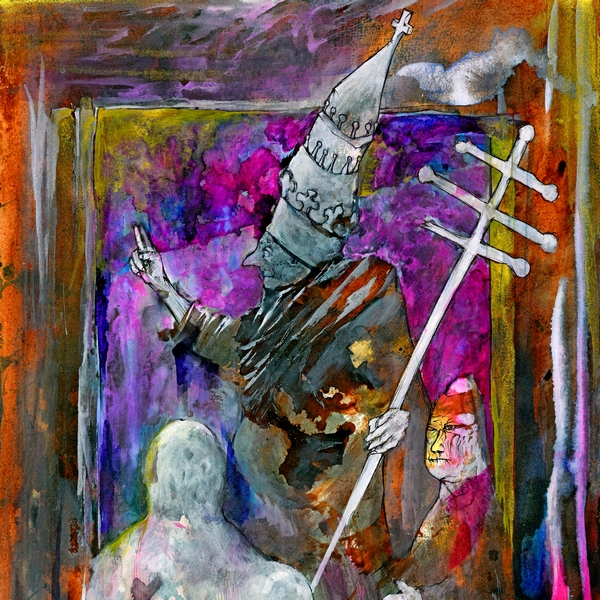 ---
"Mr. Mushroom on a Walk with Friends"
$70 for licensing as a CD/MC/LP cover or merch design
$85 original ink on approx. A4 paper ($10 shipping anywhere)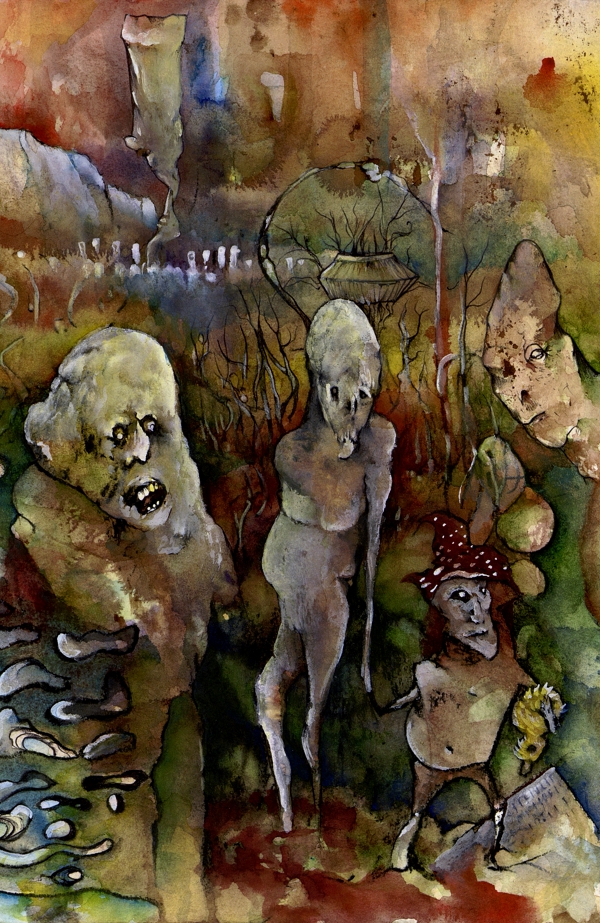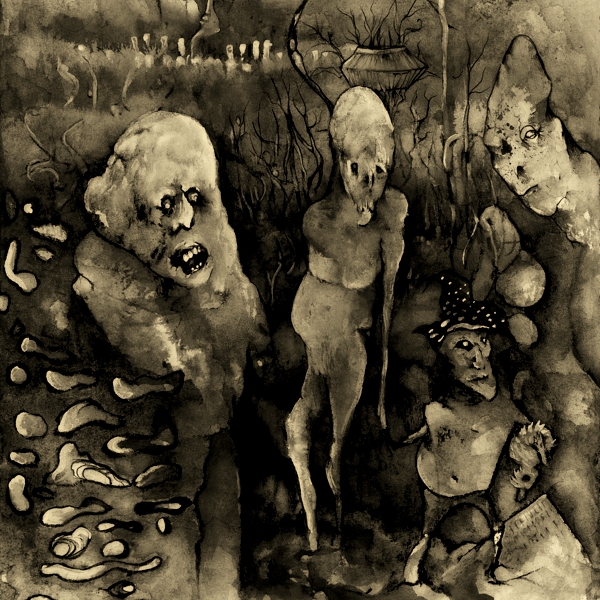 ---
"The Seer"
$70 for licensing as a CD/MC/LP cover or merch design
$85 original ink on 30×30 cm paper ($10 shipping anywhere)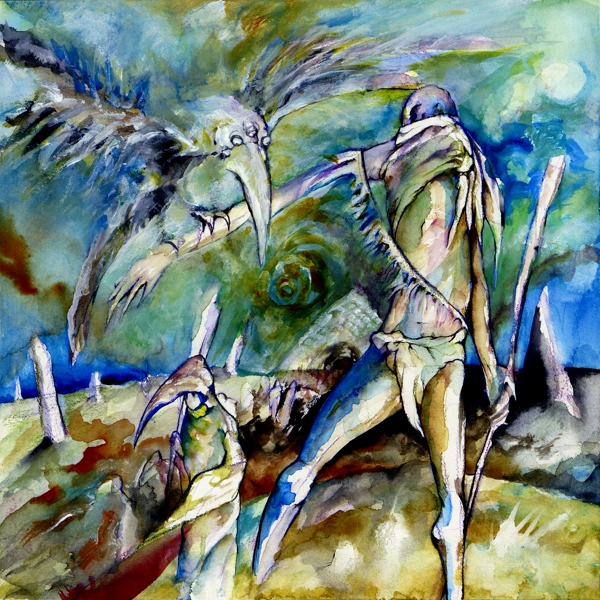 ---
"The Goblet"
$60 for licensing as a CD/MC/LP cover or merch design
$80 original ink/watercolor on approx. A4 paper ($10 shipping anywhere)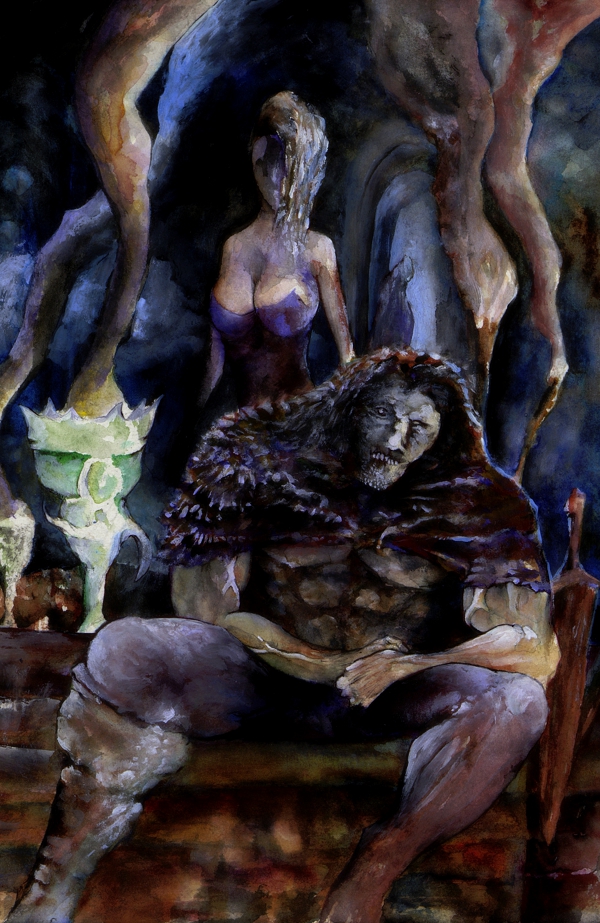 ---
"The Grail"
$65 for licensing as a CD/MC/LP cover or merch design
Original not available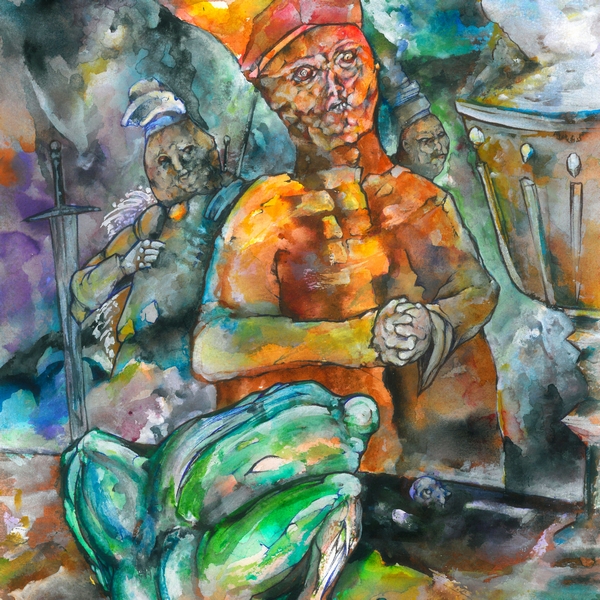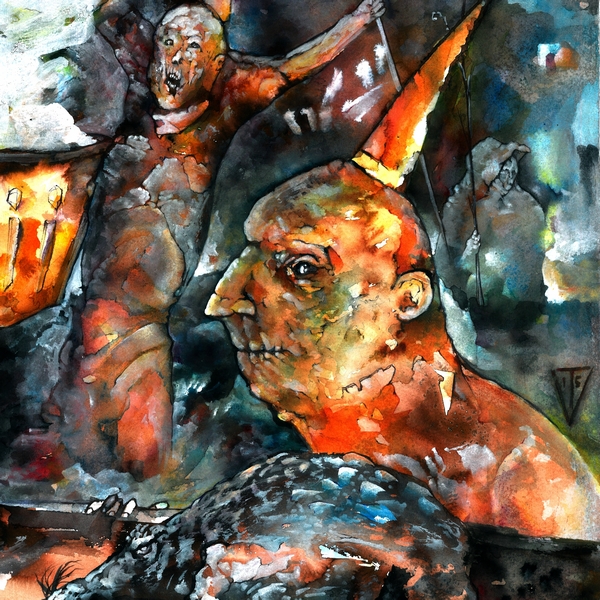 ---
"The Greed" or "Three Kings"
$60 for licensing as a CD/MC/LP cover or merch design
Original not available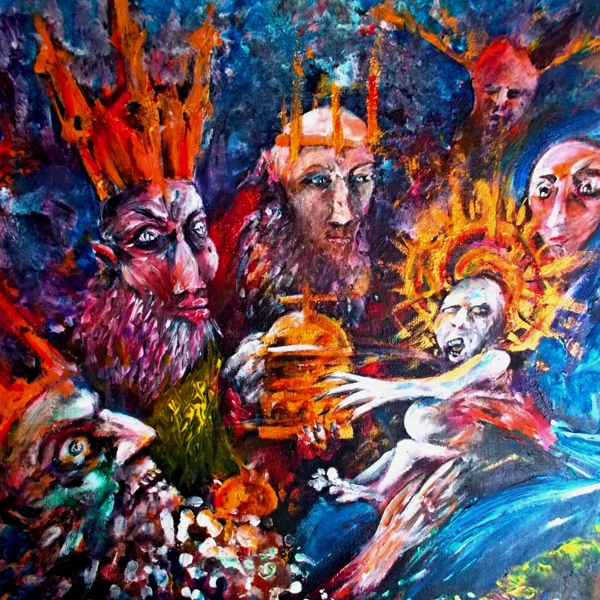 ---
"Birth of the Two-headed Calf"
$60 for licensing as a CD/MC/LP cover or merch design
Original not available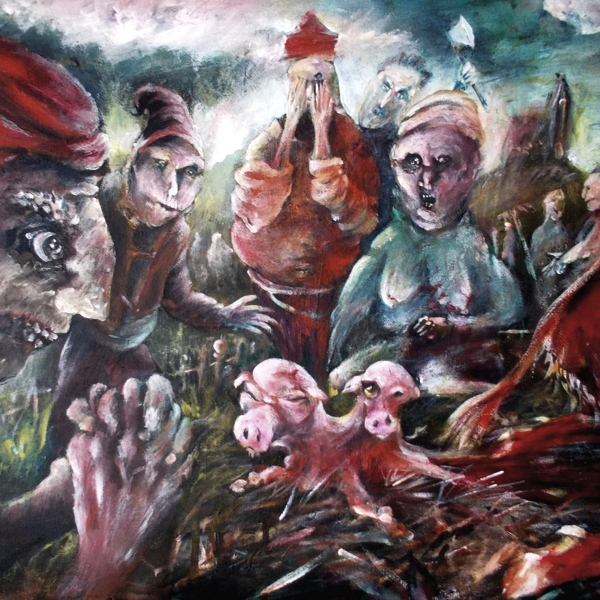 ---
"Acid Meeting"
$65 for licensing as a CD/MC cover or merch design
$80 original ink/watercolor on approx. A4 paper ($10 shipping anywhere)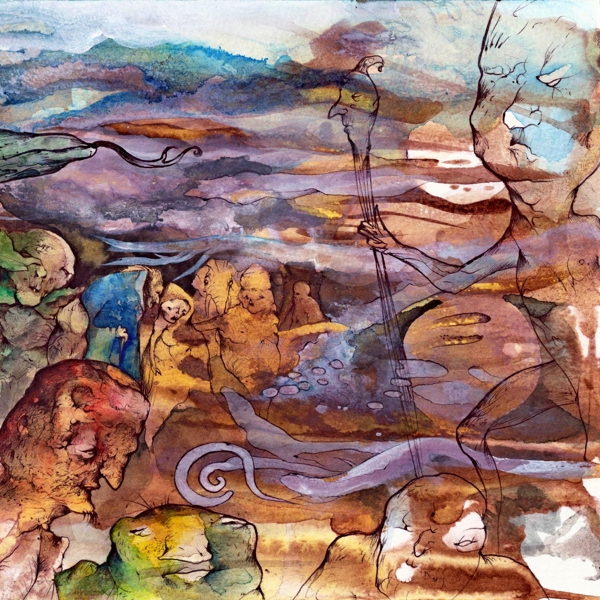 ---
"Death Lord"
$65 for digital license
$75 original pencils and ink on A3 paper (plus $10 shipping anywhere)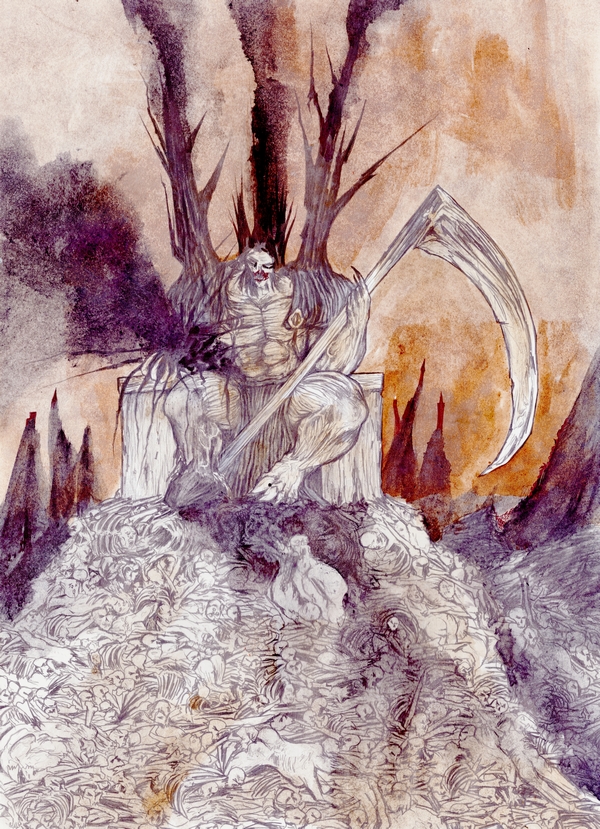 ---
"Sacrifice"
$65 for digital license
Original not available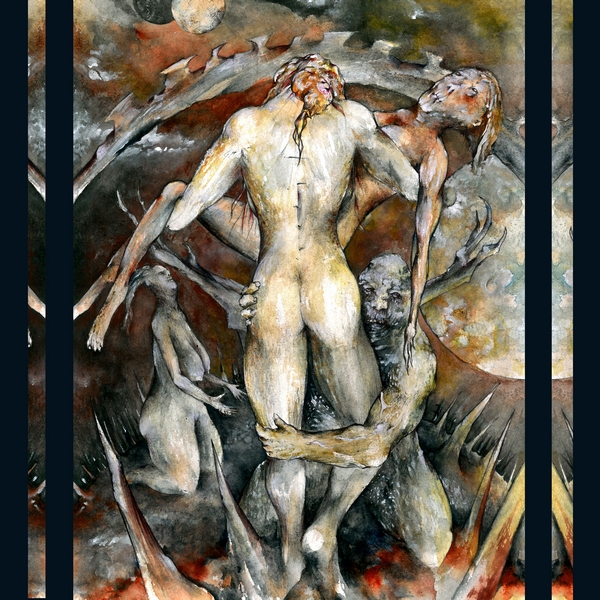 ---